It may come as a shock to learn that anxiety disorders are incredibly common. In the United States, an estimated 40 million adults cope with these conditions in a given year. Many celebrities with anxiety disorders have chosen to be open about their own personal struggles with these disorders as a way to not only heal themselves, but also to lessen the stigma surrounding issues of mental health.
There are different types of anxiety disorders, with generalized anxiety disorder, panic disorder and social anxiety disorder being some of the most identifiable for many people.
It's a bit ironic there are celebrities with social anxiety disorders since they spend so much time in the spotlight and it seems they would acclimate to being around a lot of people but many never do.
Anyone who has a difficult time being around a lot of people should feel fortunate not to live the life of famous people with anxiety because their job requires them to be in constant contact with the public.
Symptoms of Anxiety Disorders
The symptoms of anxiety disorders can range from mild to downright debilitating, and may include some of the following:
Nervousness or restlessness
An impending sense of panic or doom
Increased heart rate, rapid breathing
Profuse sweating and trembling
Exhaustion and fatigue
Insomnia and sleep issues
Difficulty concentrating or focusing on work, school, or other responsibilities
Avoiding situations that trigger fear or worry
Problems controlling worry or panic
Tendency to self-medicate with drugs, alcohol, or prescription meds, especially in social settings
Feelings of hopelessness and isolation
For people who don't live their lives in the spotlight, as well as famous people with anxiety, these disorders develop from a complex set of factors, such as brain chemistry, genetics, life events, and certain personality traits.
It's important to know that anxiety disorders are highly treatable with therapy and if appropriate, medications. In some cases, other underlying conditions, such as a co-occurring substance use disorder, may also require dual diagnosis treatment for a full recovery.
Just knowing that other well-known people and celebrities with anxiety have struggled, learned to manage the symptoms, and even overcame their anxiety issues can help motivate a person to seek the treatment they deserve.
Here are 9 Famous People and Celebrities with Anxiety Disorders
1. Selena Gomez
A singer, actress, and producer, Selena Gomez is a vocal celebrity with anxiety and depression who has been open about her struggles.
The 29-year-old admitted to "freaking out" when she reached 100 million followers on Instagram and has regularly taken time away from social media. She also sought therapy and treatment in her early 20s.
Recently, Gomez announced the launch of a mental health platform called WonderMind to connect people with educational resources related to mental health issues.
2. Stephen Colbert
Host of "The Late Show With Stephen Colbert" and longtime comedian and actor, Colbert has talked about his struggles with anxiety, especially while in college and later at the Second City Theater in Chicago.
"I needed to be medicated when I was younger to deal with my anxiety that I had thrown my life away by attempting to do something that so few people actually get away with or succeed at…," he told Rolling Stone Magazine in a 2018 interview.
3. Prince Harry, Duke of Sussex
The world-famous 37-year-old British Royal, Prince Harry hasn't pulled any punches when talking about coping with panic attacks and severe anxiety.
In a docu-series called "The Me You Can't See," produced with Oprah Winfrey, about the emotional fallout after the passing of his mother, Princess Diana, the Prince revealed he was "all over the place mentally" and would experience panic attacks before leaving the house.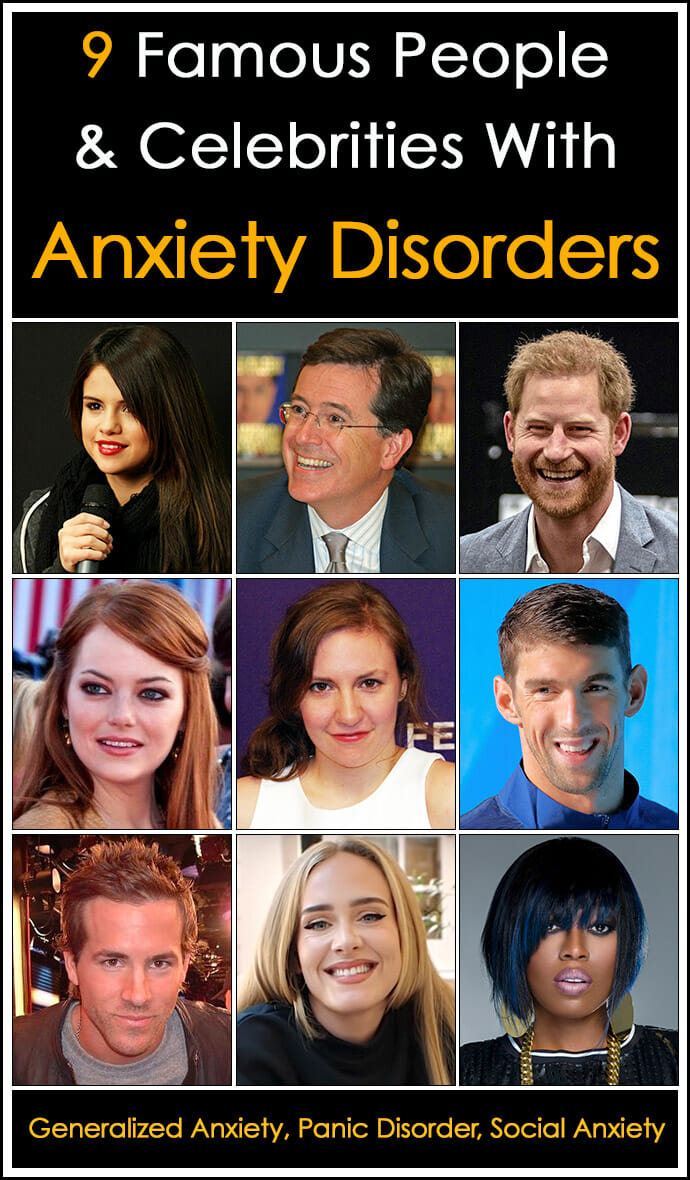 4. Emma Stone
Born and raised in Arizona, 33-year-old actress Emma Stone has talked about her struggles with anxiety, especially as a child.
Stone said in an interview with the Wall Street Journal that she'd ask her mother to explain exactly how the day was supposed to go because she wanted to make sure no one was going to die and that her life would stay the same.
She did get therapy for her anxiety and also said that it was her participation in theater that helped her move past the panic attacks.
5. Lena Dunham
Writer, actress, and filmmaker, Lena Dunham has made, in some respects, a brand of her anxiety. Her personal struggles with the condition were front and center in her HBO series "Girls," which ran for five seasons.
The 35-year-old has also been open about struggling with the misuse of Klonopin, a medication often prescribed for anxiety disorders. "It stopped feeling like I was having panic attacks and it started feeling like I was living a panic attack," Dunham has said.
6. Michael Phelps
The most decorated Olympic swimmer in U.S. history, Michael Phelps has had very public struggles with both substance use, anxiety, and depression.
Though the 36-year-old has competed at the highest level achievable, he admitted to struggling during the pandemic, telling ESPN, "Nonstop, my mood jumping up and down and all around. The pandemic has been one of the scariest times I've been through."
7. Ryan Reynolds
Known primarily a comedic acting powerhouse, the superstar Ryan Reynolds actually got his start in the Canadian produced teen soap opera called "Hillside" that eventually premiered in the U.S. on Nickelodeon.
The 45-year-old has gone on to be arguably one of the most recognizable actors fronting blockbuster films.
Reynolds has also been honest about a lifelong struggle with anxiety, saying in 2018 that he would actually conduct interviews in character to alleviate the anxiety he was experiencing.
8. Adele
A music icon, Adele recently released her latest album, "30." The artist is such a powerhouse in the music industry that she was able to close the Griffith Observatory in Los Angeles for an entire weekend to film the concert "Adele One Night Only," which premiered to massive success.
The 33-year-old musician has been very public about her struggles with panic attacks, anxiety, and depression and how she is able to continuing performing in the public eye.
9. Missy Elliot
An American icon in the music industry, rapper Missy Elliot has broken all kinds of barriers for last thirty years. In that time, the 50-year-old has had many ups and downs, but has emerged a legend.
Elliot has stated in interviews that she's struggled with anxiety since she was young.
Before her cameo in the 2015 Super Bowl, an event that arguably introduced her to a new generation, Elliot said she had a full-blown panic attack that required medical attention. "Like, IV's in my arm, everything. Nobody knew," she said.
Other Celebrities and Famous People With Anxiety
The list of celebrities and famous people with anxiety disorders is not limited to the ones mentioned above.
As mentioned previously, anxiety related mental health issues affect approximately 40 million people in the United States. That's over 18 percent of individuals in the U.S., or nearly one in five people.
Those numbers are for the general population, but because nobody is immune to the disorder, it also means that roughly one in five celebrities with anxiety are struggling with the same symptoms of fear, worry, and nervousness as the rest of us.
More Famous People and Celebrities With Anxiety Disorders
Anne Hathaway
Carson Daly
Hugh Grant
Jennifer Lawrence
Jennifer Lopez
Johnny Depp
Kate Moss
Kesha
Kim Basinger
Kim Kardashian
Kristen Bell
LeAnn Rimes
Leonardo Dicaprio
Many people deal with their anxiety symptoms by keeping private or alone in isolation. That's almost never possible when you're famous and everyone knows who you are. No wonder so many celebrities try to hide their appearance when they go out in public.
Your favorite actor, musician, or athlete may have social anxiety and is naturally nervous about being around others in public because of the condition. That would explain why they shy away from autographs or being open and friendly when out and about.
They say it's important to always be kind to others because you never know what they may be going through on the inside. For celebrities with anxiety, they know this all too well.
Photo Credits:
Lena Dunham by David Shankbone
Michael Phelps by Agencia Brasil Fotografias
Ryan Reynolds by Dick Thomas Johnson
Adele by Vogue Taiwan
Missy Elliot by Atlantic Records